We're working with farmers to grow a sustainable farming model for Cumbria.
Context
This project follows on from the Fellfoot Forward Whole Farm Carbon Pilot (part of the Heritage Funded Fellfoot Forward Landscape Partnership Scheme.  In December 2021 in partnership with The Farmer Network we worked with five farms and calculated their carbon footprint using The Farm Carbon Toolkit . We chose to work with the farm carbon Toolkit because it's free to use, has been created by farmers for farmers and because it takes a whole farm approach to emissions and sequestration with a focus on soil health.
When we discuss "carbon" we are actually referring to CO2e or carbon dioxide equivalent which is a measure of the three main greenhouse gases; carbon dioxide, nitrous oxide and methane. Carbon is used as a term to encapsulate all three of these gases under one metric so we can compare items such as fuel alongside the biological systems seen in livestock on a like for like basis.
The toolkit supports farmers in measuring their baseline carbon impact and looks at practical actions that can maximise carbon sequestration. This can be done through improved  soil and tree and hedge planting which improves shelter belts, flood resilience management and sequestration. Reduced fertiliser usage leads to fewer nitrous oxide emissions. Efficient farm machinery and vehicle usage can reduce carbon dioxide emissions and an improved stock management model can impact on methane emissions.
Farmers were asked to collect and input a variety of data associated with their business into the calculator which stores the info and can be updated as changes are made on an annual basis. This provides evidence on what to prioritise from a carbon and cost saving perspective and allows then to explore how changes to their management practices can reduce emissions.
During the pilot, a few things were identified to be missing from the overall picture. Our team at CAfS wanted to support farmers to explore renewable energy and energy efficiency for their farms and farmhouses and these were not included in the toolkit.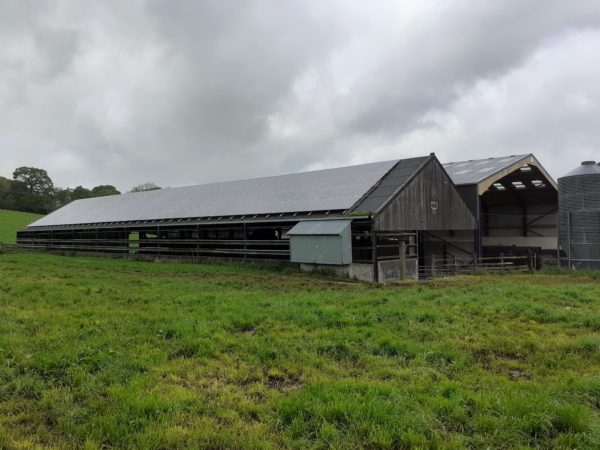 Farms are assessing the environmental impact of their business and working alongside CAfS to implement ways to reduce their carbon footprint.
That's where this project comes in. We want to create an interactive decision-making aid for farmers. What this means is that we are making a place on our website where farmers can input their own data. This will include things like the "type" of farm – beef, sheep, mixed arable, poultry or dairy; its energy usage and when most energy is utilised – day or night; its location and topographical features – windy hillside, south facing, on a river etc. and its potential for renewable energy installation.
With this information, we should be able to predict the potential for each farm if it had renewable energy infrastructure installed. This data can then be input into the Farm Carbon calculator. This tool will become a free-to-use function on our website.
When this data is gathered, it will be shared with Electricity North West who can support farmers with any barriers to implementation from grid capacity or proximity to the nearest substation. We're interested in how much energy would be displaced from the grid when renewables are put in place. We want to support farms to become energy independent, giving them a long-term sustainable energy supply to reduce their fuel bills and reduce demand on the grid.
To consolidate the learning, we want to work closely with 10 farm types and get renewables installation quotes for at least four farms to see what the costs and opportunities could typically be to slash a farm's carbon footprint. We're interested to explore both micro renewables and "at scale agrivoltaics".
Outcomes
At the end of the project, we're hoping that the farmers we speak to will be more informed on renewable energy sources and confident about what's on offer for them. To this end, we'll be hosting stakeholder events and webinar training to upskill farmers on renewables.
We are also hoping to provide training to farmers on:
Managing the farmhouse and buildings for energy efficiency / retrofit
On farm renewables – unlocking potential
We will be working closely with Electricity North West to provide support and information on technical issues – grid capacity and anticipated future need.
This allows us to support up to ten farms with an independent solar renewables consultant to develop bespoke reports.
We need to better understand the challenges farmers face in installing renewables and how to support them to eliminate these barriers. This will allow future projects by CAfS and its partners to focus on practical solutions to common issues, be they location, ownership, financing, sustainable business concerns, lack of knowledge or time constraints.