Our energy advice helpline has begun providing guidance to Cumbrians on smart meters and whether this clever equipment could help them save money on their home energy bills.
The Cold to Cosy Homes Cumbria service already provides free advice to help households to save energy and cut the amount they spend on heating and powering their home.
The team has added smart meters to the list of things the helpline covers. They can provide impartial advice for residents who may be struggling to decide on a smart meter or get to grips with the new technology.
A smart meter is an energy meter that records the exact amount of gas or electricity a home uses and displays it in near real time on an in-home display device. Smart meters are replacing traditional gas and electricity meters as part of an essential infrastructure upgrade. About half of all meters in the UK are now smart meters.
Cold to Cosy Homes Cumbria manager Gareth Field said: "We recently put out a survey on smart meters and found that a lot of people aren't quite sure what they actually do. Our mission is to help people save money on energy bills and smart meters can help with that, so it's vital that we're able to add smart meters to the list of topics our team can offer advice on.
"Installing a smart meter can often help people to keep a closer eye on how much energy they use and where they could make savings. However, this doesn't mean that they're right for everybody and we want to provide impartial guidance to help Cumbrians make the right decision for them."
They also store records of how much gas and electricity has been used each day, week and month, allowing energy suppliers to charge for the exact amount of energy used a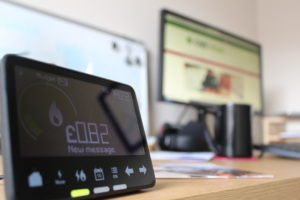 nd for users to pinpoint precisely where costs are coming from. They don't automatically reduce the amount of energy used, but they help people see how they could use less.
Smart meters can also be more convenient.
"With a smart meter, your gas and electricity readings are sent directly to your energy supplier," Gareth said. "This means no more digging around in a cupboard or getting on a ladder to read the meter. People also asked about data security and privacy in our survey. It's secure, and the only information that gets sent to your supplier is how much energy you use and when you use it. They can't see how you're using that energy, or when the washing machine is on!"
Energy providers are currently engaged in a nationwide rollout of smart meters, requesting customers commit to dates to replace their old meter with the new technology.
Gareth said: "The soaring costs of energy prices are having a huge impact on household budgets so it's really important that people are equipped to reduce their bills in any way they can. I urge anyone unsure about smart meters to check the FAQs on our website or call our helpline for free advice."
Some homes can't get a smart meter yet but will be able to get one before the end of the rollout.
"Your energy supplier can tell you if you can have one or how soon you can get one installed," Gareth said.
CAfS has been able to expand its helpline services thanks to funding from Smart Energy GB, the not-for-profit, government-backed campaign helping everyone in Britain to understand the importance of smart meters and their benefits to people and the environment.
People looking for advice on smart meters can go to cosyhomes.org.uk or call the Cold to Cosy Homes Cumbria helpline on 01768 216500.