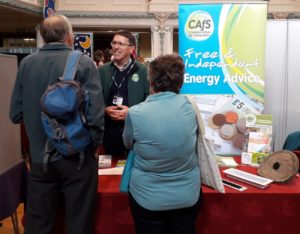 Our Cold to Cosy Homes Cumbria team have been out spreading the word about this brilliant new service to help people to save energy and cut their bills.
Tina and Andrew from CAfS were at Ulverston's bustling Eco Fair on Thursday 26 September, sharing information about the benefits that householders can tap into. A free home visit by our trained energy advisors, draughtproofing and energy-saving kit, LED bulbs, advice and referrals for other improvements are all on offer as part of the scheme.
"This free support is available to a wide range of people, so we'd encourage everyone to take a look at the broad eligibility criteria, which relate to health, benefits, income and some special circumstances," Andrew said.
"For example, if you're living alone and earning £14,520 or less we can help you, or a household with two adults and two children with an income of £31,020 or less. The criteria cover a wide range of health conditions and benefits, including child benefit. We can also help those who've been bereaved recently, recent immigrants and people moving in and out of homelessness, among other situations."
If you'd like to have a chat with the Cold to Cosy Homes team, they'll be at the Sedbergh Environmental Market on Saturday 12 October, at St. Andrew's Church from 10am to 3pm.
There are more details here on our website or call CAfS on 01768 210276.
Cold to Cosy Homes Cumbria is funded through the Energy Industry Voluntary Redress Scheme, in partnership with the Local Energy Advice Partnership (LEAP), South Lakeland District Council, Eden District Council's Warm Homes Eden project and Carlisle City Council.