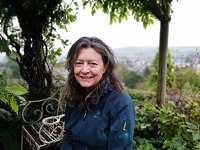 We are delighted to announce that we have appointed Karen Mitchell as our new chief executive, after a very extensive recruitment campaign.
Karen, who is currently the fundraising manager at Friends of the Lake District, will bring an exceptional breadth of expertise to CAfS. She has worked in the fields of sustainability and climate change for many years, for organisations including Natural England, Nurture Lakeland, Trees for Life and South Lakes Action on Climate Change.
"We are very happy to have found a new chief executive with the combination of experience, knowledge and networks that we need at this time of unique opportunity for CAfS," said David Beuzeval, chair of CAfS' board of trustees.
"Her significant experience in charity management, income generation and partnership development will add greatly to our strengths, as we grow our capacity to meet the unprecedented upsurge in demand for our support."
Karen's appointment will enable our current chief executive, Hazel Graham, to take up a new senior management position at CAfS, to develop and influence networks and partnerships at a strategic level.
"It's an exciting time for CAfS, as we expand and realign our team so that we can make the most of emerging opportunities to drive the rapid change that climate science unequivocally demands," Hazel said.
Karen will join CAfS in December. We look forward to introducing her to you then!