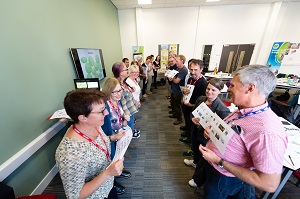 Helping Cumbrians to gen up on climate change
Around 400 people across Cumbria will be more empowered to take action on climate change in 2021 through our programme of community training on climate science and solutions, funded by the Emergence Foundation.

Taking action on climate change is a journey. The first step for most people is to know that there's a problem, to care about that problem, to understand what the solutions are and what they can do about it. Knowledge is power, and that's where our new series of community climate training comes in.
The interactive activities include short online training sessions and climate conversation cafes, being delivered by a network of 20 volunteers, supported by our CAfS training coordinator, Bernadette Calvey. The programme got under way in March 2021 and continues until September 2021.
Progress so far
April 2021:
Our community carbon literacy coordinator, Bernadette Calvey, has recruited 20 volunteers from across Cumbria, to run climate training and activities in their communities.
The volunteers are undergoing training this month, and will start running sessions in May. Watch this space!