Community food growing and food-growing enterprise
Evidence from the Greenprint Convergence and from the Community Plan consultations showed there was a real appetite to establish community food growing on Alston Moor.
We carried out a feasibility study looking at options to develop this in 2019. Our full report has been published and will be the evidence base to apply for funding to set up community-supported agriculture. Developing a food-growing enterprise with the potential to provide jobs and training would also be a huge asset on Alston Moor:
Alston Moor Community Food Growing Feasibility Study – June 2019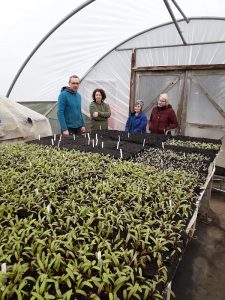 The feasibility study looked at how food growing could have a real impact on the local economy, build knowledge and skills and develop food sovereignty – a system where local producers can control the mechanisms and policies of food production and distribution.
The additional introduction of on-site sustainable energy sources, such as biomass or the use of solar PV, could provide Alston Moor with a sustainable and financially viable community-owned business.
The feasibility study was carried out for the Greenprint project by consultants from Vista Veg, based in Crosby Ravensworth, who shared their wealth of skills and experience. We've been working with farmers and landowners who may be interested in diversifying into food growing.
Lynn Barnes from Vista Veg has been making visits to other food-growing projects for inspiration and advice, along with volunteers from Alston Moor. Read our two blog posts to find out more about the fascinating sites we visited: