Zero Carbon Cumbria – Community Climate Grants
The Zero Carbon Cumbria – Community Climate Grants, is a £100,000 funding pot to support local initiatives to raise awareness of climate change and reduce carbon emissions. The funding will contribute to the work of the Zero Carbon Cumbria Partnership over a five year period. We are grateful to Allerdale Borough Council for contributing an additional £10,000 to this grants pot to benefit more projects in Allerdale, and to South Lakeland District Council for contributing an additional £15,000 for capital projects in their area.
We are particularly keen to reach out to groups getting set up in areas of the county which haven't previously taken action to address the climate crisis at a local level, and to offer support to groups working alongside more vulnerable individuals who will be hit hardest by climate change.
The aim of the funding is to get as many people as possible to 'do their bit' to reduce greenhouse gas emissions.  Have a look at CAfS' carbon calculator to get an idea of which activities produce the most carbon dioxide or methane, and think about what you and your community could do to address this.
Small (£200 – £750) and medium (£750 – £2,000) will be awarded to local groups until 2025. The deadline for applications for the current round of large grants has now passed, and announcements of the successful projects will be made in March.
Advice and support is available to help groups apply for the funding. Please get in touch with [email protected] to tell us about your ideas and how we can help you. You can also watch our webinars in which we explain in more detail the eligibility and process for attaining the funding.
Webinar links:
Please also read our Guidance for applicants.
New groups or individuals who are thinking about setting up a group are also encouraged to get in touch – we can offer advice on how to get started.  We may be able to put you in touch with other communities who run successful projects elsewhere or link you into other helpful agencies such as the Cumbria Council for Voluntary Services, Cumbria Social Enterprise Partnership or ACT (Action with communities in Cumbria).
Making an application
***Please remember to download and save your application form before you start filling it in. You will then need to send to community[email protected] together with your accompanying documents.***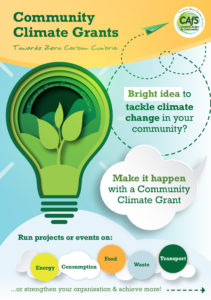 Applications for funding are welcome at any time. Small and medium grants will be assessed on a rolling basis so there is no deadline for your application. Just click on the 'apply for a grant' button to download the relevant application forms. Our aim will be to get a decision back to you as quickly as possible.
You are encouraged to read the Frequently Asked Questions by clicking on the relevant headings below. Our detailed 'Guidance for Applicants' aims to give you all the detail that you may need to make an application.
If you need any support on thinking and planning what you might like to develop, you can get in touch with CAfS to discuss this at any time. Just contact: [email protected]
Frequently Asked Questions
How will applications be evaluated?
cafsadmin
2022-05-18T16:01:36+01:00
We have a strong focus on helping grassroots community groups and would like to fund projects which will increase the breadth and depth of activity around climate change in Cumbria.
This means that we are particularly interested in supporting new groups – so if this is the first ever funding bid that you've made or you're finding the process confusing, don't worry as we'll be able to help you through the application.  Just get in touch with [email protected] to find out more.
The types of things that we will look at when we assess your application are:
Does the project reach communities with additional needs for support?
We would like to support groups which haven't received funding to work on climate change issues before.  In particular we would like to see proposals which will help people who could be disproportionally affected by climate change such as people on low incomes/benefits, young people, older or disabled people, people in insecure housing situations, migrants and/or or refugees. We will give extra weight to applications from groups based in an area without an established sustainability group.
'Fit' with the fund
We will look at whether your proposed project fits within the aims of the fund.  Does it support for activities which will reduce carbon emissions and will it engage more people and/or build knowledge and understanding of climate change?  Does it link in well with other projects being delivered as part of the Zero Carbon Cumbria programme, such as the work with young people, or the 'eat local grow local' project? We are particularly keen to support projects which will enable lots of people from your local community to get involved.
Is it a good idea and will your organisation be able to make a success of the project?
Depending on the type of project and how much money you are asking for, we might also look at whether the group has enough experience / expert support to make the project a success.  This should not put you off applying if you are from a brand new group! We'd like to see some creative, inspiring new ideas which might be reaching out to involve a new audience – but also know that you might need funding for basic costs. We'd also like to know about your partnership plans if you are teaming up with others to deliver your project.
Value for money
All projects supported with Lottery funding have to show that they represent value for money.  For example – how many people will be involved? Will your project benefit one family, or a whole street or village?  Does your budget look realistic? What will be the expected level of carbon saving (if any)?  Please note that we are also happy to fund work to support your development as a group, and this could mean employing a trainer or consultant to help build your skills.  It might be worth checking if this work be delivered more cheaply / for free by using existing resources – for example, by joining in with free training delivered elsewhere or by seeking practical help from another group who may have already successfully delivered a similar project.