In 2019, community energy on Alston Moor became a reality!
CAfS had been helping to progress community energy on Alston Moor since 2013. The first solar PV scheme installed by Alston Moor Community Energy (AMCE) came to fruition in 2019!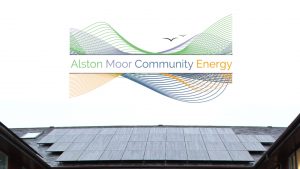 How it all began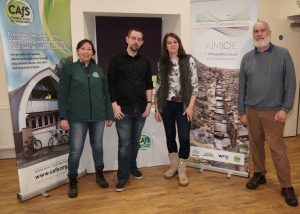 During our Sustain Eden project, we received funding from WRAP's Rural Community Energy Fund to run a feasibility study, looking at whether it would be possible to buy the privately owned Nenthead hydro scheme. Unfortunately, purchasing the hydro didn't prove possible, but the foundation for community energy on Alston Moor had been laid. Working in partnership with the Alston Moor Partnership, CAfS then supported the development of Alston Moor Community Energy (AMCE).
AMCE was launched in December 2016 with a community screening of Naomi Klein's film, This Changes Everything. AMCE currently has four wonderful directors with an awesome range of experience, from climate change mitigation and adaptation to renewable energy development, management and community engagement.
Sunny start for AMCE
In 2019 AMCE installed a solar PV array on the roof of Samuel Kings School in Alston. The project has funded support from the Greenprint, Alston Moor Parish Council, Alston Moor Business Association, the Postcode Local Trust and the Wrap Rural Community Energy Fund (RCEF).
AMCE purchased and installed the system for the school, which, in addition to making savings on purchasing energy, will receive income from the Government's feed-in tariff scheme to cover maintenance and insurance costs. AMCE launched a crowdfunding campaign to add to the size of the scheme and further boost the benefits to the school.
The crowdfunding campaign was successful in securing the full target amount of £22,300 to install a 27kw solar PV array.
"Over the next 20 years, the project will save over 150 tonnes of carbon, as well as generating nearly £70,000 of savings through the school from reduced energy bills and from the feed-in tariff," said Kit England, AMCE director.
Tim Haldon, one of the directors of AMCE and a member of Alston Moor Parish Council, said:
"Tackling climate change can also help communities like ours to thrive. We're delighted our first project will provide so many benefits for the community. It will also allow teachers a practical way to educate students about climate change."
Speaking about the project, Brian Cooper, chair of the governors at Samuel Kings School, said:
"It's fantastic to have this project happening at Samuel Kings School. The time, expertise and fundraising work by AMCE means we're not taking funds needed for other crucial school activities, and the additional savings will give the school extra financial flexibility and capacity for 25 years. We'll also have a real practical example for pupils on what they can do to tackle climate change."
Keeping it local
In addition to the solar PV project, AMCE also looked into the viability of setting up an 'Energy Local' scheme on Alston Moor, based around the Nenthead hydro scheme.
Energy Local gives residents a way to buy energy that's produced in their area. It works by setting up an 'Energy Local Club', which households join. They then buy local clean power when it is generated. The scheme buys power from the generators at a price that reflects its true value, keeping more money in the local area and reducing household electricity bills.
Visit the Energy Local website to find out more, and watch this space for updates!
Find out more
Visit the AMCE website for more information and to sign up to their newsletter, for updates on their activities.