Open home: Victorian industrial building being converted to low-energy home - 1:30pm
Cumbria Action for Sustainability
See an amazing transformation under way, with green roof, lime insulation, airtightness layer & Passivhaus technologies.
Ticket prices
Standard ticket
£ 5.00
Help another
£ 10.00
Genuinely can't afford it
£ 0.00
20190915T13:30
September 15th, 2019 1:30 PM to 3:00 PM
20190915T15:00
Put on calendar
Lancaster

,


United Kingdom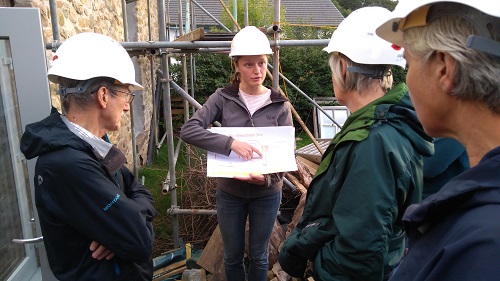 Visit an 1890s industrial building near Lancaster that's undergoing a deep retrofit and conversion into a very low-energy home. It was once the battery house for a Victorian hydro plant, which had powered the industrial estate that was on the site of the current Lancaster Cohousing development. (See below for a separate opportunity to visit this innovative housing scheme.)
The project is a work in progress. Here are some of the features that are in place or planned:
The building's solid stone walls have been retrofitted with a new external stone wall skin and full-fill insulation

Diathonite lime and cork insulation on internal walls

Vaulted ceiling with overlay insulation above the rafters

Blower-proof paint on airtightness layer and vapour barrier on ceiling

Raising floor level to incorporate insulation and overlay underfloor heatin

New built extensions, one with a green roof

Doors and windows with high energy performance from the Green Building Store

Mechanical ventilation and heat recovery (MVHR) system

Air-source heat pump
Things to know before you book...
Accessibility: There is a short walk to the house from the very limited parking space near the site. This is a live building site and is not wheelchair accessible. There is some uneven ground and steps to the front door with a handrail. Please wear suitable sturdy footwear for what is still a building site.
Age limit: This event is not suitable for under 18s.
There are two time options for this open home visit. This booking is for the 1:30pm slot.
Book for the 3:30pm slot instead.
This event is part of the Cumbria Green Build & Sustainable Living Festival 2019. Thank you to our headline sponsor:

Event information
| | |
| --- | --- |
| Category | Cumbria Green Build & Sustainable Living Festival |
| | |
| --- | --- |
| Topic | Building materials, New-build & retrofit, Renewable energy, Ventilation & airtightness |
| | |
| --- | --- |
| Funders | Electricity North West |