Open home: Straw bale new-build home with clever technologies 1.30pm
Cumbria Action for Sustainability
Explore a new timber-frame home with straw bale insulation, airtightness & ventilation technologies, solar PV & rainwater harvesting
Ticket prices
Standard ticket
£ 5.00
Help another
£ 10.00
Genuinely can't afford it
£ 0.00
20190902T13:30
September 2nd, 2019 1:30 PM to 3:00 PM
20190902T15:00
Put on calendar
Brampton (Carlisle)

,


United Kingdom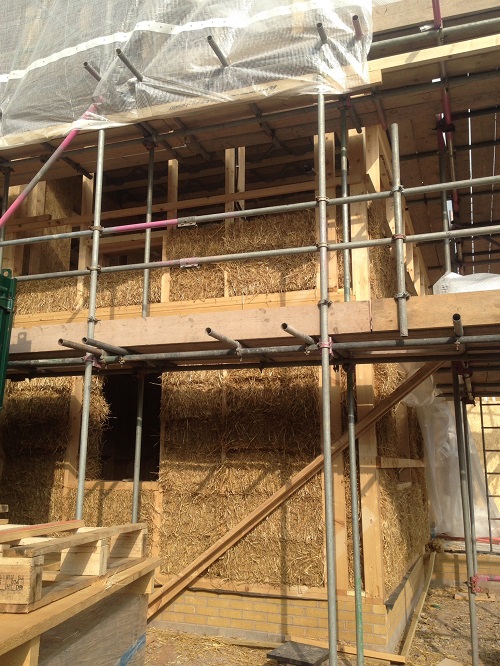 Visit a straw bale home with clever technologies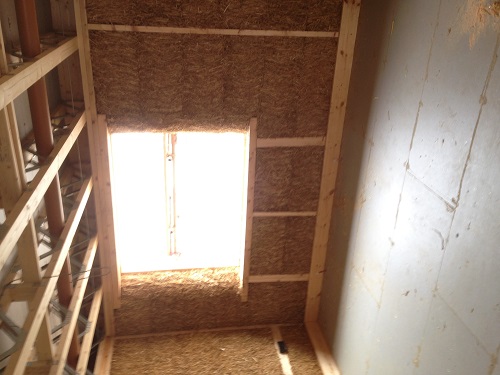 What do you get if you cross modern-day Passivhaus technologies with traditional straw bale building methods? You get Huffnpuff – a new home being built near Brampton.
Take advantage of a rare chance to explore this three-bedroom home with integral workshop, being built with a timber frame and using straw bales for insulation.
The owners are first-time self-builders, one of whom discovered straw building more than 16 years ago and has wanted to build a home in this way ever since. They've gained hands-on experience at other straw-bale builds in Cumbria and beyond, including the National Trust's Footprint building near Windermere, a pig barn at Battery Farm, Nenthead, and a writers' retreat near Inverness.
The owners did a lot of the work to prepare the site and build the retaining walls themselves, and have engaged a building contractor and architect to construct their new home. Their sloped plot added some extra challenge. Interestingly, they had originally hoped to use car tyres for their foundations but their architect advised against this.
The builders have now finished on site and the owners are continuing with finishing-off tasks, from hanging doors to making stairs to the mezzanine level. By the time of our visit, the owners hope to be close to moving in, so they'll be able to share the full story of the build.
Here are a few of the features you'll be able to find out about – as well as the straw bales, of course!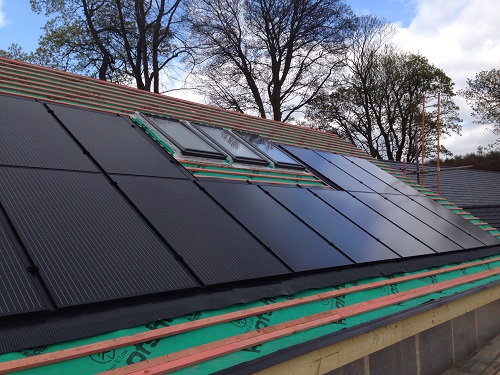 Solar PV 'boost': This system can help to heat hot water and charge batteries, offsetting overall electricity demand. It heats the water on days when there is enough sunlight to produce energy. Interestingly, this doesn't have to be full sunlight – a bright day is enough. There is the option to add batteries, but this has proved to be too expensive for now.
Airtightness: The owners are aiming for a high level of airtightness, to reduce the amount of heating needed – and therefore the amount of energy that will be used.
There are two membranes under the floor, with eight inches of insulation between them. There are two membranes in the roof and others around the windows to avoid thermal bridging. Every possible access for cold air has been thought about. There are three layers of lime plaster inside and outside, with three coats of lime wash outside. The home will use a ventilation system similar to those found in Passivhaus buildings.
Rainwater harvesting: The harvester provides water for toilets, the washing machine and the garden.
There's growing interest in straw bale building in Cumbria, with a few popping up around the county in the past few years. It's an attractive option if you're keen to use materials with a low carbon footprint, as well as creating a well-insulated building that will use less energy to heat.
Things to know before you book...
There are just 20 places available, across two time slots: 1.30pm and 3.30pm.
Please note: this booking is for the 1.30pm slot.
Book for the 3.30pm slot instead
Access: You will need to walk up a steep driveway and through a steep garden to reach the house. The tour will be planned according to the conditions at the site at the time of our visit.
Under 18s: You'll need to book a place for everyone in your party, regardless of age. Unfortunately, we won't be able to allow anyone to join the visit on the day without a ticket (including children), for safety and insurance reasons as well as event capacity.
Under 18s must be accompanied and supervised at all times by a responsible adult.
You might also like...
If you're interested in alternative building methods and materials, join us for a visit to the National Trust's Footprint building. This truly handsome, fascinating and quirky building was made from a range of traditional materials, including straw bale. Find out more
This event is part of the Cumbria Green Build & Sustainable Living Festival 2019. Thank you to our headline sponsor:

Event information
| | |
| --- | --- |
| Category | Cumbria Green Build & Sustainable Living Festival |
| | |
| --- | --- |
| Topic | Building materials, Energy efficiency, Insulation, New-build & retrofit, Rainwater harvesting, Renewable energy, Ventilation & airtightness |
| | |
| --- | --- |
| Funders | Electricity North West |