Open home: Renovated farmhouse with renewables, lime and hemp insulation and more - 7pm
Cumbria Action for Sustainability
Includes simple ways to boost water temperature from back boiler and solar PV
Ticket prices
Standard ticket
£ 5.00
Help another
£ 10.00
Genuinely can't afford it
£ 0.00
20190912T19:00
September 12th, 2019 7:00 PM to 8:30 PM
20190912T20:30
Put on calendar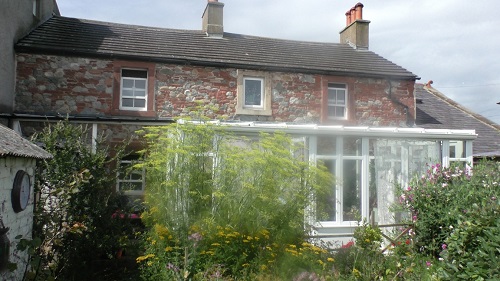 Join us on one of two tours around this renovated farmhouse. (Tour also at 7pm)
Whilst the house was structurally sound, it was in a state of disrepair internally when purchased by the current owners. The house was extremely damp, with ceilings collapsing and rotten windows. There was cement and plasterboard on the internal walls and plastic bags on the floor to hold out the wet.
There was one fireplace in use and four others that had been sealed up. Water heating was by an old immersion heater. Everything needed stripping back to bare walls internally, removing all ceilings. On the outside, the old external cement render was chipped off, to take it back to the original sandstone and cobble walls.
The current owners, who are passionate about eco-technologies, renewables and energy saving, have installed hemp/lime/purlite insulation on the internal walls, a woodburner central-heating stove, Laddomat pump (dramatically speeds up water temperature from woodburner back boiler), thermal store, solar thermal, solar PV, an Eddi power diverter (microgeneration energy diverter - free water and space heating using excess energy from PV), Aquaflow regulators and Ecocamel shower heads.
All these measures have made this a very cheap house to run. Their electricity bill is £12 to £15 per month in summer, and £35 to £50 in winter, and that includes cooking on electric, too! Their system is set up so that they can run the systems on a small generator, in the event of a power outage.
The owners are happy to share their list of equipment and materials used.
There are two time options for this open home visit. This booking is for the 7pm slot.
Book for the 2pm slot instead
You might also like...

* Visit a sustainable smallholding renovation with renewables & food growing. Find out more
* Visit a Victorian industrial building being converted to low-energy home. Find out more
This event is part of the Cumbria Green Build & Sustainable Living Festival 2019. Thank you to our headline sponsor:

Event information
| | |
| --- | --- |
| Category | Cumbria Green Build & Sustainable Living Festival |
| | |
| --- | --- |
| Topic | Building materials, Draughtproofing, Insulation, New-build & retrofit, Renewable energy |
| | |
| --- | --- |
| Funders | Electricity North West |