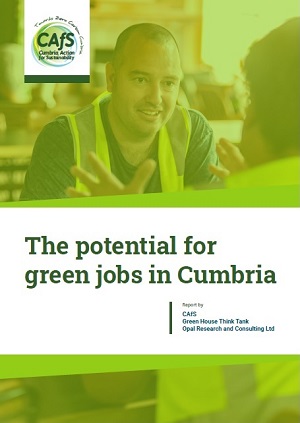 The Potential for Green Jobs in Cumbria 
There is huge potential to create 'green' jobs in Cumbria – employment opportunities that are good for both people and the environment. New research carried out for CAfS shows that the county could benefit from 9,000 new jobs in industries ranging from renewable energy and construction to transport. The findings are shared in our report The Potential for Green Jobs in Cumbria. Funded by Quadrature Climate Foundation, the report was published on Friday 12 March 2021. 
The report will contribute to the crucial opportunity we have to plan for an economic recovery of Cumbria that accelerates the transition to a cleaner, net-zero emissions local economy after the devastating impacts of Covid-19.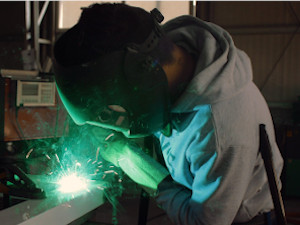 In the 18 months prior to Covid-19 there was an extraordinary upsurge in public and political awareness of climate change and the urgent need to tackle it nationally, regionally and locally. Many local authorities in Cumbria declared climate emergencies and set ambitious target dates for achieving zero carbon emissions. The level of concern and momentum to tackle climate breakdown remains high despite the pandemic as many Cumbrian communities have experienced firsthand the devastating impact of flood events, exacerbated by rural isolation, fuel poverty, rural depopulation, limited employment opportunities and low incomes.  
In order to avoid exacerbating the climate crisis, we must rapidly shift away from extracting and using fossil fuels. We are currently highly dependent on fossil fuel in all aspects of our lives, from the the way we get around to how we heat our homes to the products we consume. So reducing fossil fuels has significant implications for jobs and for the local people, communities and businesses which depend on them. It involves challenges, but it also brings opportunities for 'green' jobs which are good for both people and environment.  
Decent jobs and tackling climate change are not mutually exclusive. Well managed transitions to lower carbon economies can create new jobs, upgrade existing jobs and help tackle inequalities.  
There was good evidence that formerly industrial areas, such as towns on the west Cumbrian coast, which suffer from high and growing levels of deprivation, could be revitalised by making a shift to green jobs. Green jobs can be found both in familiar sectors, such as manufacturing, construction and transport, as well as in newer sectors such as energy efficiency and renewable energy. They are jobs that might involve, for example, increasing the energy efficiency of existing and new-build housing, the provision of public transport, electric vehicles and their charging infrastructure, support for cycling, the reuse and reduction of waste materials. Furthermore, improving resource efficiency and reducing waste can generate savings that can be invested back into employment. 
We commissioned this research and analysis to identify the potential for green jobs in Cumbria but must also take account of the views of the people and communities which would be affected. Any theoretical analysis of green job opportunities must be sense checked with the people whose lives would be most affected to ensure the findings have credibility and to ensure a 'just transition' which takes account of  skills, social welfare, individual wellbeing and financial sustainability of employees, communities and enterprises involved.  
The research
The work took two analytical approaches: 
Approach 1
(led by Professor Andy Gouldson)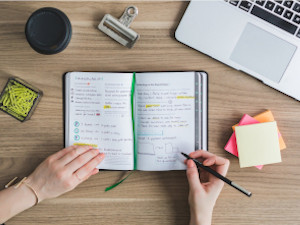 This involved identifying the county's carbon emissions by district and the options for reducing carbon emissions in the housing, public and commercial buildings, transport and industrial sectors.  
Those options were evaluated, taking into account the buying, installing, running and maintenance costs over their lifetimes and their projected carbon savings. The evaluation also took into account any performance gaps and likely rebound effects. 
The scope for actual deployment of these theoretical options was assessed. 
A league table of the most cost and carbon effective options that could be implemented in Cumbria as a whole were created, along with the investment needed to put these options into effect. 
A forecast was made of the potential levels of job creation associated with different scales of investment. 
Approach 1 also identifed the gap between the levels of carbon reduction achievable through cost-effective, cost-neutral and technically viable options, and the zero-carbon target date of 2037, and proposed some more innovative measures that could be deployed to close this gap. 
Approach 2
(led by Green
H
ouse Think
T
ank)
This approach assessed the potential for jobs associated with 'green' or low-carbon activities in renewable energy, waste reuse and recycling, low-carbon transport and buildings and applied those assumptions to Cumbria.  
A review of the plans and strategies of local authorities in Cumbria and the Cumbria Local Economic Partnership and their implications for green jobs was undertaken. 
Case studies on how 'green' industries could be expanded, others repurposed and new ones created were produced. 
As well as identifying opportunities for new green jobs, it also identified the potential job losses from sectors reliant on fossil fuels.   
Exclusions
Our research did not include the following areas: 
Further development of nuclear

For the purposes of the research, we have assumed that the number of jobs in the nuclear industry associated with Sellafield will remain the same, with no new nuclear power station.

 

Agriculture sector

There will be changes to this sector in the next few years due to Brexit. These are complex and would require

dedicated

comprehensive treatment beyond the resources of this report.

 

Sites We will not consider the use of particular

sites

.

 
Community engagement
A critical feature of both approaches to this work is community engagement. Our research assumptions will be challenged by employees, communities, businesses, trade unions and local authorities to ensure they are appropriate to Cumbria. The engagement will be undertaken through a combination of one-to-one and group meetings. 
Project partners
Green House Think Tank

Green House Think Tank was founded in 2011. It aims to lead the development of green thinking in the UK and is a member of the Rapid Transition Alliance. In 2018, it undertook comprehensive climate jobs modelling work in the UK, Ireland and Hungary funded by the Green European Foundation, and for this project will expand and refine its existing data for West Cumbria. Anne Chapman, Jonathan Essex and Peter Sims are the project team.
Contact: [email protected] 
Opal Research and Consulting Ltd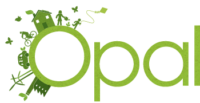 The project team comprises Professor Andy Gouldson and Andrew Sudment of the Centre for Climate Change Economics and Policy (CCCEP) who work on the links between economic development and carbon emissions. They prepared an analysis of the employment implications of low carbon development across the Leeds City Region in 2017, prepared economic assessments of the scope for low carbon development in all local authorities across the UK in 2017, and worked with the TUC and others to look at the impacts of low carbon development on skills and jobs across the UK and especially in Yorkshire and Humberside in 2019. Robin Fraser Williamson is also on the Opal team. He has a background in carbon management, and has experience in advising companies and cities on how to deliver carbon reductions. He led the preparation of a low carbon plan for the City of Edinburgh, including an assessment of the employment creation opportunities associated with retrofitting buildings. 
Contact: Professor Andy Gouldson, [email protected]