And we're winners!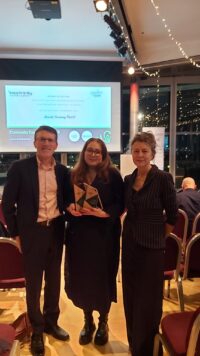 We were very proud indeed to receive not one, but three awards on Friday night at the Community Energy England awards in Salford.
We took home the Community Energy Organisation of the Year (large) award and the Climate and Environmental Impact award. We were also highly commended for the Fuel Poverty Action award.
The awards are recognition of the work, passion and dedication of all of the team here at CAfS, and acknowledge the breadth of work that we do. Our projects from our Cold to Cosy Homes, through to our Solar Made Easy work to make changes for Cumbrians that reduce carbon emissions, save money and make our lives more comfortable. To be recognised at a national level is incredibly fulfilling, as Karen Mitchell our CEO explains:
"We've had another incredibly busy year – developing new partnerships and projects and securing funding to deliver them, growing the team and inspiring and supporting all kinds of people and organisations to change the way they do things to benefit the environment. The awards gave us a chance to recognise and celebrate all that we've achieved, to feel good about the difference we're making and feel part of the national movement of action on the climate crisis. It's also been heartwarming to receive all the lovely messages about our awards too from our network. It's a win for the whole Cumbria community!"
You can read more about the categories and winners here.