Cold to Cosy Homes - Champions Training - Penrith
Cumbria Action for Sustainability
Skill up on the fantastic new Cold to Cosy Homes Cumbria scheme and then spread the word to your clients or community.
Ticket prices
Standard ticket
£ 0.00
20200110T10:00
January 10th, 2020 10:00 AM through 12:00 PM
20200110T12:00
Put on calendar
Penrith Library




St Andrews Churchyard




Penrith

,

CA11 7YA




United Kingdom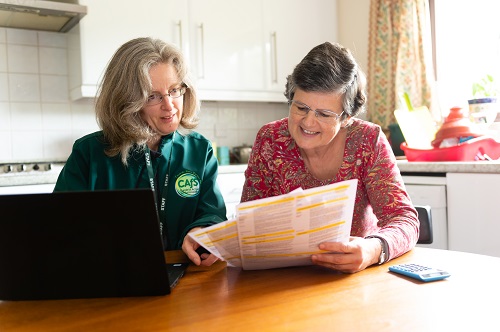 Join us for a half-day training session to learn all about the new Cold to Cosy Homes Cumbria service, and how it can help your clients, service users and people in your community.
This free service offers clear advice and practical help – including free draughtproofing and energy-saving equipment, LED bulbs, advice on energy tariffs and referrals for other improvements.
The training session will give you a thorough understanding about the service, what it offers, how to refer your clients or people in your community, and what the process will be for them.
The training will cover:
What the Cold to Cosy Homes service offers to householders (and including the Warm Homes Eden service in Eden)
Who is eligible for the service
How to refer someone by phone, email or online
How to help someone get an advice visit booked in or support someone by attending a visit (for those who need assistance)
Other ways for you to help people to access this support
After the session, you'll have all the information you need to spread the word about this fantastic free service and make sure the people you support can benefit from it.
Who can be a Cold to Cosy Champion?
Anyone who can share information about the service or refer clients!
Here are a few examples:
Frontline workers who help and care for others through their work, either in people's homes or in the community
Volunteers in your local community who attend events and could help neighbours to find out more
You could also be a champion just by telling a friend or relative about Cold to Cosy Homes, and helping them to find out more.
You don't need to be an energy expert and no prior knowledge is required.

What does a Cold to Cosy Champion do?
Cold to Cosy Champions will help people to tap into the Cold to Cosy Homes service in a range of ways, depending on your work or volunteer role. No two champions will help in exactly the same way.
Some champions will promote Cold to Cosy Homes Cumbria in the community, helping to refer people online or by phone at coffee mornings, flu clinics or other local get-togethers.
Some champions will go into homes as part of their job, and may refer or help someone to self-refer using the CAfS phone number or the online referral form.
Some champions will provide even more support by attending the Cold to Cosy Homes visit to reassure and help the client to take in information and answer questions.
Other champions may give talks at local community events to promote the Cold to Cosy Homes service and tell people how to apply online or by phone.
Others may join CAfS staff at community markets and fairs to give out Cold to Cosy Homes leaflets or make phone and online referrals from the stall.
There are many ways to be a Cold to Cosy Champion – if it sounds like something you could do, please book now.
If you have any questions, please contact Tina Holt for more information: 01768 210276 or tina@cafs.org.uk.
Find out more about Cold to Cosy Homes Cumbria
Cold to Cosy Homes Cumbria is run by Cumbria Action for Sustainability and is funded through the Energy Industry Voluntary Redress Scheme, in partnership with Carlisle City Council, Eden District Council's Warm Homes Eden scheme, South Lakeland District Council and the Local Energy Advice Partnership (LEAP).
Alternative date
Can't make it on this date? We're also holding this briefing session on Wednesday 15 January, 10am-12pm, at Greystone Community Centre in Carlisle. Book for the Carlisle date instead >
Event information
| | |
| --- | --- |
| Category | Cold to Cosy Homes Cumbria |
| | |
| --- | --- |
| Audience | For professionals, For community groups |
| | |
| --- | --- |
| Topic | Draughtproofing, Energy efficiency, Insulation |
| | |
| --- | --- |
| Funders | Energy Industry Voluntary Redress Scheme |
| | |
| --- | --- |
| Partners | Carlisle City Council, Eden District Council, South Lakeland District Council, LEAP |