Home Energy Question Time
Cumbria Action for Sustainability
Online energy advice – put your question to our panel of energy advisors. Stay just for your own question or to listen to all the questions and answers.
Ticket prices
Standard ticket
£ 0.00
20210303T15:00
March 3rd, 2021 3:00 PM through 4:00 PM
20210303T16:00
Via Zoom
Online
United Kingdom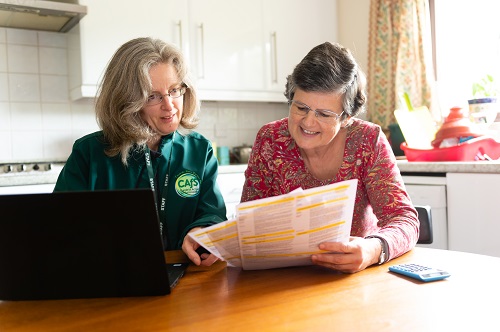 Got a question about your home energy use and how to stay warm this winter?   
Then come and ask the CAfS panel of energy-saving advisers. 
Our Cold to Cosy Homes team is opening its doors (virtually!) with a series of three online advice sessions. 
Even if you don't have a question, you're welcome to come along to one of these virtual drop-ins and pick up information that could save you money and help you keep your home warmer.  
Our experienced advisers help people with questions on all sorts of topics: 
Understanding your energy bills or usage 

How to set your boiler controls and heating timer 

All about smart meters - what they are and how you get one 

Ways to save energy at home 

How to keep your home warm 

Understanding energy tariffs  
Whatever your question, the answers could save you money and energy. 
These sessions are open to everyone across Cumbria.  
Just register and then come along on the day to ask your question. You don't have to stay for the whole hour, but you're very welcome to stay and hear the answers to other people's questions, too.   
Places are limited, so please register now and have your question ready for the panel to answer on the day. 
There are 3 virtual sessions to choose from. This booking is for the session on 3 March at 3pm. 
If you'd prefer one of the other dates, please click on them below to go to the correct booking form: 
Once you book your place, we'll send you an email with the Zoom link.  
Can't make the dates? You can still get our advice. Find out more about our Cold to Cosy Homes Cumbria service or call our team on 01768 216500. 
MORE INFORMATION
Cost - This event is free to attend.
Venue & timings - This event will be held via Zoom on 3 March at 3pm. All registered attendees will receive a link to join the call before we begin. 
Recording - We at CAfS will not be recording the event or sharing it online afterwards. This, however, does not account for the potential recording that may be done by other attendees of the webinar. By taking part in this event, you accept that your name and image may appear in any recording of this nature. You can opt not to activate your webcam and microphone, and you can change how your name is displayed in the list of participants. Attendees' video feeds won't necessarily be on screen at any point during the webinar.
Help with joining this event
Are you not sure how to use Zoom but would like to attend our event? If you don't have a friend or family member who can help you get set up, we'd be happy to help you in advance. Please contact us as soon as possible. You can phone us on 01768 210276 during normal office hours (Tue to Fri) or email office@cafs.org.uk.
Unfortunately, we aren't able to offer technical support at the time of the event.
This event is part of our ongoing programme of Green Build & Sustainable Living events. Keep an eye on our website for more events throughout the year!
Event information
| | |
| --- | --- |
| Category | Cold to Cosy Homes Cumbria |
| | |
| --- | --- |
| Topic | Draughtproofing, Energy efficiency |
| | |
| --- | --- |
| Funders | Energy Industry Voluntary Redress Scheme |