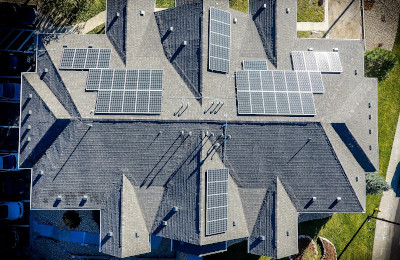 We helped to explore the possible opportunities for solar power implementation and assisting local communities in how they can fully grasp their carbon footprint and map the ways in which they use energy.
This project, completed in 2021, worked with communities in Cumbria and Lancashire to identify opportunities for energy efficiency, solar power and community energy initiatives.
A £15,000 grant from Electricity North West helped to create state-of-the-art tools for solar mapping and carbon footprint calculation. These were first used in the context of small businesses and households in three different communities to help them maximise their collective potential to generate renewable energy.
Solar power mapping
Large scale installation of solar energy/photovoltaic (PV) systems is key to achieving sustainability in our communities; it's therefore important to identify potential suitable roof space for modelling PV deployment.
Working with the University of Lancaster, CAfS developed a tool which can map and measure the roof space of a town or community and assess the maximum number and capacity of solar panels that could be installed. This can provide an assessment of which roofs in a particular community would provide the best generating potential.
We engaged with the local communities to develop this work further to determine how PV mapping could play a key role in a 'whole place' zero carbon approach.
Carbon footprint tool
As part of the project we will also utilised a carbon footprint tool which was piloted in Ambleside in Cumbria (Ambleside to Zero project) to help businesses understand what their carbon impact is and measures they could take to reduce it. The assessment combined with the latest tailored advice for businesses on how to decarbonise.
This tool and support focused on small businesses and domestic households who do not have the resources to carry out this kind of assessment themselves. Evidence suggests that a similar tool, developed by Chester University and rolled out in Ashton Hayes in Cheshire, led to a 20% reduction in carbon emissions over a two-year period.
To deliver the Community Energy Start-up project, CAfS worked with three identified communities and partners:
Alston Moor Partnership and Alston Moor Business Association
SusKes – Sustainable Keswick
Carbon Positive Halton – Halton with Aughton
You can read the final solar PV area mapping reports for each community here:
Further information
For more information on our community and local energy strategy visit Electricity North West's website and strategy page.