Could clever, low-energy buildings meet Alston's need for homes and workspaces?
That's a question the Greenprint has been helping to answer.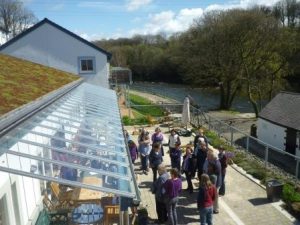 We wanted to know what it would take for Alston Moor to become an innovative and alternative area with affordable architecture and energy-efficient dwellings with adjacent workspace, either as a series of individual homes or as a small, collective work-life community.
We held a fantastic seminar on eco architecture during the first-ever Greenprint Festival in 2017, looking at how this could happen. Four experts led a discussion on how Alston Moor's need for affordable homes and workspaces could be met through energy-efficient buildings. They included a passive house architect, a passive house timber frame developer, the Community Land Trust and Eden District Council's community housing team.
There was immense enthusiasm from attendees to forge ahead and use Eden District's community-led housing funding to set up a working group. The aim of this group is to lead the development of beautiful, energy-efficient, mixed social housing. During the discussions, people agreed it would be useful to have an independent facilitator, to bring together different organisations, groups and individuals, creating a truly representative working group.
Next steps
The first step was to identify what housing is needed on Alston Moor. This happened through a housing needs survey, which we were able to create thanks to support and expertise from Eden District Council via the Community Housing Fund.
The housing needs survey was taken forward by a small community-led housing group, which includes representation from the Greenprint. We developed a bespoke survey relevant to the area, which recognised the needs of this community to work and live on Alston Moor. We can build a picture of current and future housing needs, which could support an application for a much bigger pot of funding. This 'second-phase fund' from Homes England runs until March 2020.
Together with continued support from the Eden housing fund, this would allow us to set up a constituted group to look at community-led housing projects on specific sites.
The survey results indicated a need for truly affordable two-bedroom starter homes, either to purchase or rent, ground-floor dwellings for an increasingly older population, with a desire for there to be mixed-generational communities. There was also an identified need for research and action into reducing the number of empty properties on Alston Moor and for the community to be able to take on some of these properties to retrofit for community use if at all possible.
The survey showed a number of people wanted to move from their current dwellings because their homes were damp or hard to heat. There is a really good opportunity here for the community to lead on the development of affordable homes, to provide mixed social housing at an affordable rate, incorporating high energy efficiency and long-term sustainability. The next step will be to identify a lead group to take this work forward within the wider community action plan and to source funding to support future research and development.