Carbon literacy training for voluntary groups & social enterprises
Take your organisation on its first steps to environmental sustainability by joining one of our accredited carbon literacy courses.
Half-price subsidised places are now available for employees and volunteers from organisations in Cumbria and the North East:
voluntary organisations
community organisations
social enterprises
The course, hosted on Zoom, will give you the facts about the latest climate science. You'll come away with the skills to calculate your carbon footprint and see where you can make improvements to reduce it. You'll also explore the kinds of actions needed to put those improvements in place – in your organisation, community or at home.
The course is delivered over two half-day sessions.
You'll find details below of the next available course dates, with a link to book.
The exclusive discounted rate is £69, thanks to funding from the National Lottery and County Durham Community Foundation.
You can book up to 3 subsidised places per organisation.
What the course covers
This inspiring, informative and interactive accredited training course will take you concisely through:
the science of climate change
causes
impacts
solutions
Plus:
clear and practical advice on how we can all achieve change
overview of the global, UK and regional picture, what is happening locally, and how to get involved.
What you'll gain from the course:
more confidence in your knowledge
better able to articulate what needs to be done
feeling more able to be part of that change
able to begin to develop your own action plans
able to develop training sessions for others, if you wish to
About your trainers
The session is delivered by expert trainers from Cumbria Action for Sustainability (CAfS). CAfS has more than twenty years' experience in carbon reduction projects and training. We co-chair the Zero Carbon Cumbria Partnership, bringing together eighty organisations working towards net zero by 2037. We run Cumbria's carbon and climate literacy training programme. Our certified carbon literate trainers bring decades of practical emission-reduction expertise, in-depth knowledge of the local area as well as significant training experience.
Courses now open for booking: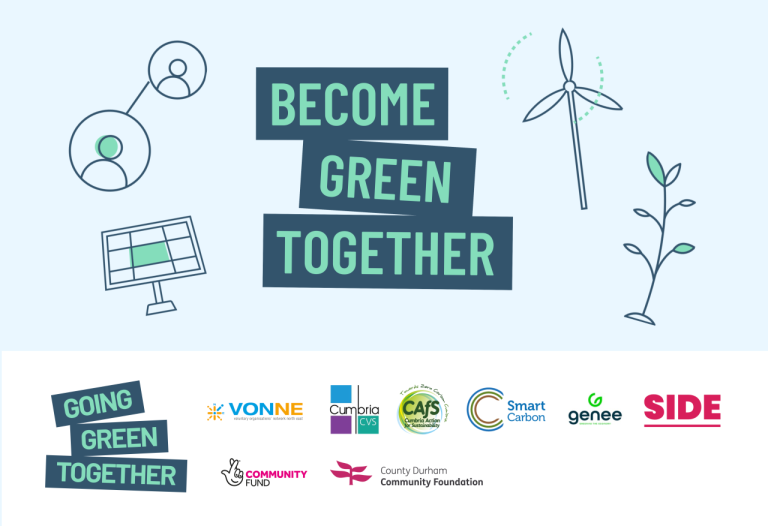 Going Green Together
These subsidised carbon literacy courses are offered through the Going Green Together programme.
The programme supports voluntary, community and social enterprise organisations and communities in Cumbria and the North East to take action on the climate emergency, support nature and biodiversity and ensure a just transition to a low carbon future for our communities.
It's recognised that this organisations need support to understand the climate crisis, and how they can take action. That's where Going Green Together comes in. It aims to help and encourage organisations to take the first steps in reducing their carbon emissions, giving them the tools to embed sustainability within their work.
Going Green Together is delivered by a partnership of the VONNE Climate Action Alliance (VCAA) members, VONNE, Cumbria CVS, CAfS, Genee, SmartCarbon and SIDE Labs, supported by the National Lottery Community Fund and County Durham Community Foundation.
For us at CAfS, this is a great opportunity to add our 20-plus years of emission reduction experience to this programme through events, workshops, training, resources and toolkits, access to tools and frameworks and development funding for new climate action projects with beneficiaries.