Cumbria Green Build Festival: Transforming Energy in Cumbria (Conference)
Host:

Cumbria Action for Sustainability
Sorry, this event happened in the past, but you can see our forthcoming events by 
clicking here
Battery Storage, Local Generation and Distribution – Transforming Energy in Cumbria
Supported by Electricity North West Ltd and South Lakeland District Council
In conjunction with CAfS 12th Annual Cumbria Green Build Festival
Hear from international and regional experts on the future of energy use and generation in Cumbria. This conference gives local businesses, organisations and anyone interested in energy an insight into opportunities now or on the horizon, and how Cumbrians can benefit from them. 
Places are fully funded for all delegates, thanks to support from Electricity North West and South Lakeland District Council, to support business innovation in the region and help consumers to plan for future innovations across the industry. Booking is essential.
Speakers and topics:
Mark Cropper (James Cropper plc): Energy, Business and Community – Where Does Cumbria Stand?

Cara Blockley (

Electricity North West): The Future of Energy Distribution – a Regional, ENW Perspective

Jonathan Bates (Photon Energy): Battery Storage – the Present and the Future
Gill Fenna (Quantum Strategy and Technology): Developing a Community Scale Energy Project in Cumbria
Chris Blake (Renew Wales): Selling Locally Generated Energy Back to Local Consumers
Followed by Q&A session with the panel of speakers.
About the conference:
This major conference in Kendal explores the future of energy storage, generation and distribution in Cumbria. As the sight of electric vehicles in our towns becomes common and the prospect of lithium batteries in every home and business becomes ever more likely, the question being asked is, 'How can Cumbrians benefit from these innovations?'
As well as being used in electric vehicles, batteries enable businesses and homeowners willing to be more flexible in their energy usage to store energy and avoid peak charges on bills. For those generating their own electricity through solar pv, wind, hydro or combined heat and power, storage then becomes even more attractive. Indeed, some commentators are describing energy storage as the 'nail in the coffin' for conventional utilities.
The conference is being delivered by Cumbria Action for Sustainability as part of the 12th annual Cumbria Green Build Festival, a week-long programme of events focusing on energy efficiency and low-carbon solutions.
Jonathan Bates, director and general manager at Photon Energy, will outline the current capabilities and applications of battery storage for renewables in homes and businesses – from single households up to megawatt systems. He'll also brief you on the innovations on the horizon.
No longer will householders and businesses with renewable energy generation sources need to sell their energy at low prices to the grid, only to have to buy it back later at premium prices. Similarly, it could allow consumers to buy cheaper energy at night or when renewable energy supply is at a peak and then store it for use during the day, replacing high-tariff energy prices.
With large scale commercial battery storage systems now into the megawatts, the applications for 'big' industry and commerce becomes limitless.
The conference has a star line up of some of the UK's leading pioneers in energy generation and distribution, including Chris Blake, director of Renew Wales, who will be explaining how a 'virtual grid' for energy might work to match renewable energy supplies with demand for cheaper electricity, potentially tackling fuel poverty and creating a market place for new renewable energy schemes beyond the Feed In Tariff.
Meanwhile, Gill Fenna from Quantum Strategy and Technology will be explaining the opportunities for developing solar powered micro-grids and district heating systems in a rural communities. She is currently leading a potential £3.5million project to bring these innovations to Cumbria.
Mark Cropper, Director of Ellergreen Hydro Ltd and Non Exec Chairman of James Cropper plc, will be introducing the event with his own perspective on how the Cumbrian economy can diversify and strengthen through a different approach to energy generation and distribution.
Cara Blockley, Central Services Manager for Electricity Northwest, will be exploring the challenges and opportunities that the company is facing in the light of battery storage, new regulations and the changing energy supply market
Doors open and refreshments from 5.30pm.
About the speakers 
Mark Cropper, Non-Executive Chairman James Cropper plc
Mark has worked in the renewable energy since 2001 across industry and finance and culminating in the foundation of Ellergreen Hydro in 2008 which has built upwards of thirty small hydro projects in Cumbria and Wales. Nearly all investment has been spent on local suppliers and created new sources of income in numerous valleys that will support their localities for decades to come.   He is a fierce advocate of community owned distributed generation and proving that truly sustainable alternative energy networks are viable today. Mark has also been chairman of family business James Cropper PLC since 2010.
Jonathan Bates, Director and General Manager, Photon Energy Ltd
Jonathan studied chemical engineering at University College London and went on to complete his PhD at the University of Northumbria's Newcastle Photovoltaics Applications Centre in 1992. He has worked in the renewable energy industry ever since – as an engineer at the Halcrow Group and as a senior engineer and director at IT Power, a leading renewable energy research and development consultancy. As director and general manager at Photon Energy, he is responsible for business planning, sales and marketing.
Jonathan is well respected in the solar PV community, serving as a board member of the UK's Solar Trade Association (STA) and deputy chairman of the STA's PV Technical Working Group. He is also a member of the PV Technical Committee for the Micro-generation Certification Scheme. He is a member of the Energy Institute and a chartered engineer.
Jonathan has strong links with Cumbria, having grown up in Broughton-in-Furness.
Cara Blockley, Central Services Manager, Electricity Northwest
Cara has over ten years' experience of the electricity distribution industry. Since joining Electricity North West Cara has worked in our procurement team and as bid manager in our innovation team, where she was responsible for bid development and submission and securing funding for our flagship innovation projects. In her current role, Cara is responsible for defining an efficient programme of network capacity and providing robust data management services to the business, as well as having overall responsibility for the discretionary funding team.
Chris Blake, Director of Energy Local CIC and Community Energy Wales
Chris has been a leading force behind community scale renewables in Wales for nearly a decade.    He is a founding Director of both The Green Valleys – joint winners of NESTA's Big Green Challenge in 2010, supporting community responses to climate change, and TGV Hydro Limited – the Ashden Award winning microhydro development company. TGVHydro has designed and built over 40 microhydro schemes across Wales.   He is a founding Director of Community Energy Wales  – dedicated to promoting the community ownership of renewable energy.  For the past year Chris has also been a director of Energy Local CIC – an initiative that is aiming to match local electricity generation to local demand with the potential to reduce consumer bills and improve income for generators at a time when falling FIT is undermining the business case for many distributed generation projects.
Gill Fenna, Director, Quantum Strategy and Technology Consultancy.
A Cambridge engineering graduate, Gill has worked for many years delivering advice and policy recommendations, undertaking feasibility studies and providing 1-2-1 business support to clients on energy efficiency, renewable energy and climate change. Quantum has supported a wide range of public, private, community & voluntary sector organisations, NGOs and partnerships including BAE Systems, British Gas, Morecambe Bay Renewables, Liverpool City Council and the Welsh Development Agency. Quantum were Sustainability Advisors to SLS/ICON providing the 'Look of the London' 2012 Olympic Games. Director of several community renewable energy companies (in her 'spare time'), Gill has been leading a pioneering study into micro grids and district heat networks in the nearby community of Burneside, beside Kendal.
We would like to thank Electricity Northwest Ltd and South Lakeland District Council for their generous support.

Green Build Festival 2017
This event is part of the Cumbria Green Build Festival 2017, a week-long programme of activities and visits to green homes, organised by Cumbria Action for Sustainability. Visit the CAfS website for full details: www.cafs.org.uk/events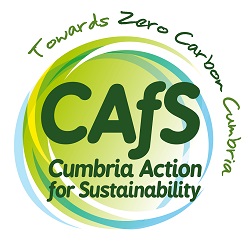 Thank you to all the Cumbria Green Build Festival funders: