Cumbria Green Build Festival: Eco-Architecture for Life & Work
Host:

Cumbria Action for Sustainability
Sorry, this event happened in the past, but you can see our forthcoming events by 
clicking here
Could clever energy-efficient buildings meet a rural area's need for affordable homes and work spaces?
Join us for an insightful series of talks, exploring what would it take for Alston Moor to become an innovative, alternative area for affordable architecture and energy-efficient dwellings with office or workshops attached.
We'll look at the possibilities for individual unique designs or a small collective work/life community.
Now's a particularly relevant time to talk about options, as land for new builds has been allocated within the Eden Local Plan.
This event is likely to be of interest to Alston Moor residents keen to learn more about options for the future of the area, as well as local authorities, community groups and anyone wanting to learn more about Passivhaus design for homes and buildings.
Presentations & discussions by:
Andrew Yeats Eco Arc Architects, certified Passivhaus designer
Andrew has always had an enthusiastic commitment to ecological passive house design and was the project architect for the 41 certified Passivhaus homes at the Lancaster Co-housing project. Andrew particularly enjoys working collaboratively with clients to design beautiful and healthy buildings built to the highest technical and spatial standards.
Stephen Gurney Eden Insulation, Passivhaus construction
Stephen is a specialist in Passivhaus materials and a director at Eden Insulation in Appleby. The firm constructs highly insulated, airtight timber frames for highly energy-efficient homes and other buildings, capable of meeting and even exceeding the exacting Passivhaus standard.
Andy Lloyd
Andy has a wealth of experience to share in community land trusts. These are non-profit organisations that develop and steward affordable housing schemes, community gardens, civic buildings, commercial spaces and other community assets on behalf of a community.
Eden District Council (speaker to be confirmed)
A representative from the council will tell you about community-led housing schemes. There are opportunities following on from the announcement in January 2017 by the Department for Communities and Local Government (DCLG) that the council has been awarded £938,640 from the Government's Community Housing Fund (CHF).
Peter Kempsey, Countryside Consultants
Countryside Consultants, the Alston-based architects and specialists in building conservation and rural projects, will be on hand to support with questions requiring local knowledge.
Parking:
There is limited parking outside the town hall itself and more spaces further up the high street or at the Fair Hill Car Park (drive to the top of cobbles, turn left to Nenthead. Fair Hill is on the right.)
Accessibility:
The event is in the main hall on the first floor. There is a lift suitable for wheelchair users or those with limited mobility. Please do ask if you have any questions about accessibility.
Alston Moor Greenprint Festival
This event is part of the brand new Alston Moor Greenprint Festival (headline funder: Esmée Fairbairn Foundation), as well as featuring in the Cumbria Green Build Festival.
This event is one of the ways that Alston Moor residents can take part in the future development of the area, feeding into the Alston Moor Greenprint and the Community Plan. Residents can also highlight what's important to them about Alston Moor by taking part in the Alston ARK community art installation and the Bolts, Ginnels & Snickets event.
See all the festival events at www.cafs.org.uk/events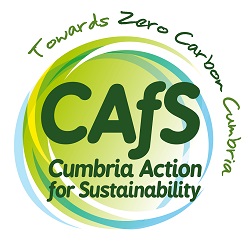 Thank you to all the Cumbria Green Build Festival funders: