Low-carbon menu, hydro power & sustainability in the outdoors
Cumbria Action for Sustainability
Our tastiest event! Sample a low-carbon menu at the National Trust's Sticklebarn & hear about their hydro power.
Ticket prices
Adult
£ 20.00
20190909T10:30
September 9th, 2019 10:30 AM to 1:30 PM
20190909T13:30
Put on calendar
National Trust Sticklebarn




Great Langdale




near Ambleside

,

LA22 9JU




United Kingdom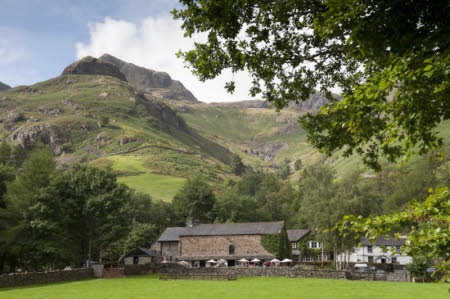 We invite you to a delicious three-course event, hosted for us by the National Trust at their Sticklebarn pub and restaurant in the spectacular Langdale valley. You'll tuck into a talk, a walk and an innovative low-carbon menu!
Power talk...
For your first couse, you'll be treated to an insight into the National Trust's very own hydro scheme in Langdale. You'll hear from Trust experts about how the hydro came about, how it generates energy and how its power is used. It all ties into the Trust's wider strategy to reduce its carbon footprint and boost the sustainability of its operations.
You'll also hear about the Trust's 'Land, Outdoors and Nature' strategy for sustainability and conservation.
Hydro walk...
For your next course, you'll enjoy a short guided walk and talk up to the hydroelectric intake above the Sticklebarn, and you'll also visit the turbine building down near the restaurant.
Low-carbon dining...
So, you've seen menus with the calorie count beside each item, but how about the carbon count? The Sticklebarn restaurant is leading the way by showing the carbon footprint of the items on their delicious menu, and we invite you to give it a try!
The Trust teamed up with internationally-renowned carbon expert Mike Berners-Lee to work out the footprint of menu items, allowing diners to choose their meal based on the carbon emissions it has caused. You may have seen Mike in the recent David Attenborough documentary, Climate Change - The Facts, and we're proud to say that he is a patron of CAfS.
Food and drink makes up a whopping quarter of the average person's carbon footprint (the single biggest chunk), so making it easy to choose low-carbon options is a huge stride forward.
You'll have the chance to sample some of the lowest carbon options during our hot buffet lunch.
Things to know before you book
Accessibility: The talk and buffet are upstairs in the Sticklebarn, which does not have a lift. The walk to the hydro follows a ghyll uphill on the fellside, along rough ground.

Our thanks to the National Trust for making this delicious event possible!
This event is part of the Cumbria Green Build & Sustainable Living Festival 2019. Thank you to our headline sponsor:

Event information
| | |
| --- | --- |
| Category | Cumbria Green Build & Sustainable Living Festival |
| | |
| --- | --- |
| Topic | Climate change & sustainability, Food, Renewable energy |
| | |
| --- | --- |
| Funders | Electricity North West |