Carbon and Climate Literacy Training - Carlisle
Cumbria Action for Sustainability
PLEASE NOTE THAT THIS EVENT IS NOW CANCELLED DUE TO PUBLIC HEALTH ADVICE FOR TACKLING THE CORONA VIRUS.
Ticket prices
Individuals, community groups & charities
£ 59.00
Businesses & other organisations
£ 129.00
20200324T09:00
March 24th, 2020 9:00 AM through 5:00 PM
20200324T17:00
Put on calendar
Carlisle College




Compton Street




Carlisle

,

CA1 1HS




United Kingdom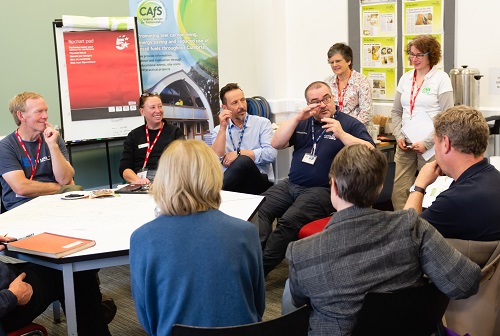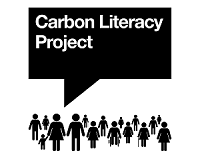 Do you want to get your facts straight about climate science, carbon footprints and solutions?
Are you considering running training for others in your community, your business or other organisation, or more widely?
Attend this one-day course to learn how the science and solutions can best be presented, and decide whether you might wish to do the same for others.

The C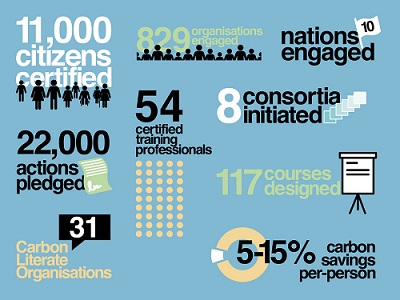 arbon Literacy Project is globally unique – there is nothing else quite like it anywhere. It was recognised as such by the UN at the COP21 climate conference in Paris in 2015, where it was awarded as a TAP100, one of 100 worldwide Transformative Action Programs.
To date over 11,000 individuals from 829 organisations across 10 nations, have been certified as Carbon Literate.
This full-day, certified course will cover the basics of climate change science, how we know it's happening, how climate change will affect us in the future, what we are already doing about it, and what else we can all do about it.
The course provides you with the knowledge, exercises and materials to feel confident in your understanding of climate change, discuss the issues with others locally, and start to build a plan around how you can reduce emissions in your own sphere of influence.
The course is also a great way to meet other local organisations engaging with Carbon and Climate Literacy Training, and benefit from opportunities to network and exchange ideas across a wide range of Cumbrian organisations and communities.
Training materials are accredited by the Carbon Literacy Trust, and all participants successfully completing the course will receive a certificate.
Lunch is provided.
Who will benefit from attending the training:
This is training for interested individuals and organisations, and will particularly benefit:
• Local authority staff
• Councillors
• Members of Sustainability Groups
• Local businesses and wider organisations who might wish to test out a course before rolling it out
• Parish councils
• Educators
• Anyone who wants to get their facts straight and influence others
I really feel like I can educate others on what I've learnt today, on how they can reduce their carbon footprint. I have certainly learnt a lot.
About your trainer: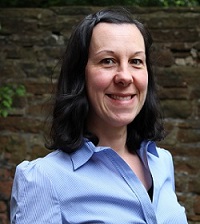 Your carbon literacy trainer is Hazel Graham of Cumbria Action for Sustainability.
Hazel is an experienced trainer who has run training programmes across the country on climate science and solutions, regularly speaks on climate change at major events and conferences in Cumbria and across UK, lectures at universities across the country, and has trained up a pool of trainers to deliver climate science and solutions training across Manchester.
Hazel has an MSc in Environmental Sustainability, has been the CAfS CEO for the past 7 years, and is co-chair of the countywide Zero Carbon Cumbria Partnership.
Things to know before you book
Accessibility: This venue is fully accessible.
Preparation: You'll need to carry out a basic carbon footprint exercise in advance. More details provided upon booking.
Our grateful thanks to Carlisle College for their generous support in hosting in the course. Carlisle College holds the silver EcoCampus award for their sustainability.
Part of our ongoing programme of Green Build & Sustainable Living events.
Event information
| | |
| --- | --- |
| Category | Cumbria Green Build & Sustainable Living Festival |
| | |
| --- | --- |
| Topic | Climate change & sustainability |
| | |
| --- | --- |
| Partners | Carlisle College |