Making Your Building Airtight - A Practical Workshop
Cumbria Action for Sustainability
This hands-on training covers installing insulation and airtightness membranes, tapes and seals.
Ticket prices
Adult
£ 15.00
20200130T13:00
January 30th, 2020 1:00 PM through 5:00 PM
20200130T17:00
Ecological Building Systems UK Ltd




Cardewlees




Barras Brow


Dalston


Carlisle

,

CA5 6LF




United Kingdom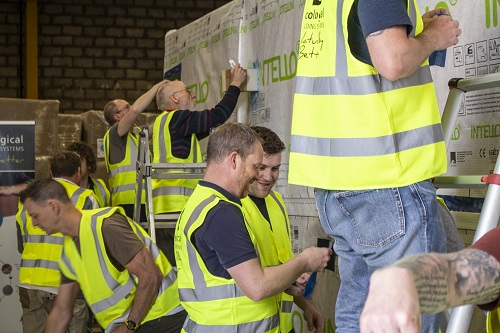 Airtightness is an issue that cannot be ignored, and as we get ever-closer to zero-carbon homes, excellent standards will have to be achieved in all new homes. Achieving airtightness is important for the energy efficiency of dwellings and the comfort of occupants. Without it, the insulation installed will not perform to the calculated U-value.
Therefore clients, renovators, architects, builders, and contractors will all need to pay very close attention to this aspect of the project, to ensure the airtightness specification is implemented on site throughout the design and construction phases. You'll also need to ensure the integrity of the airtightness barrier is maintained throughout the whole build, given that airtightness isn't something that can be easily sorted out later at air-pressure test stage.
Join us in the informal surroundings at Ecological Building Systems' training centre near Carlisle, starting with a presentation on achieving optimum airtightness which will last around an hour, plus an opportunity for questions.
Following a short break with refreshments, for the remainder of the training we'll then move onto the practical session in the warehouse, where you'll get the opportunity to practise fitting airtightness products on the life-sized training wall.
Training will briefly cover installing insulation to achieve optimum results, then followed by a main focus on installing airtightness membranes, tapes and seals to achieve the best results for a robust, durable and healthy building free from moisture-related issues.
Who will benefit
This training workshop is open to all, including any individuals seeking to build or renovate their own home to a high environmental standard, as well as building trade professionals such as architects and contractors.
Unfortunately this workshop is not suitable for children aged under 18.
Things to know before you book
Accessibility: The training room is in the office building adjacent to car park, accessed up one flight of stairs. The practical demonstration is in the warehouse, approx 200m away from the office. This requires a walk across the site which is a shared hauliers' yard, high viz will be provided to attendees for this element of the day.
What to wear: Please note that the warehouse used for the practical demo is unheated, therefore given the season please bring suitable warm clothing (including hat & gloves!) and wear sensible outdoor shoes appropriate for a workshop environment.
You might also like...
* Talk and demonstration on how to internally insulate solid stone and brick walls. Find out more

Part of our ongoing programme of Green Build & Sustainable Living events. Keep an eye on our website for more events throughout the year, leading up to our main festival every September!
Event information
| | |
| --- | --- |
| Category | Cumbria Green Build & Sustainable Living Festival |
| | |
| --- | --- |
| Topic | Building materials, Draughtproofing, Energy efficiency, Ventilation & airtightness |
| | |
| --- | --- |
| Partners | Ecological Building Systems |