Open home: Off-grid, deep eco-retrofit of a traditional upland farmhouse - 3pm
Cumbria Action for Sustainability
Visit an off-grid, deep eco-retrofit of a traditional upland farmhouse and renewable energy system in an attractive rural location.
Ticket prices
Standard ticket
£ 5.00
Help another
£ 10.00
Genuinely can't afford it
£ 0.00
20190929T15:00
September 29th, 2019 3:00 PM to 4:30 PM
20190929T16:30
Put on calendar
Askham (Penrith)

,


United Kingdom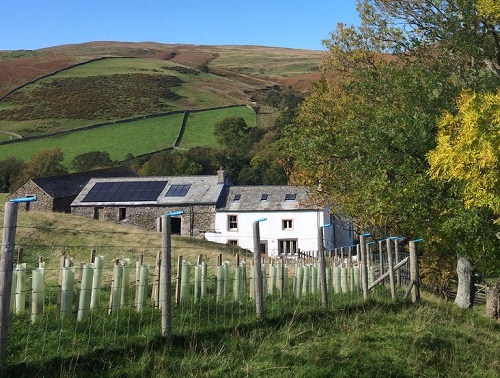 Join us on one of two tours around this renovated upland farmhouse. (Tour also at 11:30am)
This former farmhouse dating from the the 17th century stood uninhabited for almost 50 years, until it was recently given a new lease on life.
The renovation has been carried out primarily as a self-build project with help from local contractors. The property has been thermally insulated using natural materials - lime, cork, hemp, sheepswool - and relies on wind and solar energy for the bulk of its power and heating needs.
Materials salvaged from the house have been reused as far as possible, and key original features retained. The renovation is on-going, especially decorations! The owners are developing an upland wildflower meadow which is beginning to show results, and cultivating a bee and butterfly-friendly garden.
There are two time options for this open home visit. This booking is for the 3pm slot.
Book for the 11:30am slot instead
Things to know before you book
ACCESSIBILITY: The property is accessed via a bridleway (unsuitable for extremely low vehicles) and then involves a steep walk down a farm track to the house (approximately 200 metres - no vehicle access), uneven ground and some steps. As an old farmhouse there are low beams and other possible obstacles! Please wear suitable footwear and clothing according to the weather conditions.
You might also like...

* Visit a sustainable smallholding renovation with renewables & food growing. Find out more
* Visit a renovated farmhouse with renewables, lime and hemp insulation, back boiler and solar PV. Find out more
* Visit a Victorian industrial building being converted to low-energy home. Find out more
This event is part of the Cumbria Green Build & Sustainable Living Festival 2019. Thank you to our headline sponsor:

Event information
| | |
| --- | --- |
| Category | Cumbria Green Build & Sustainable Living Festival |
| | |
| --- | --- |
| Topic | Building materials, Draughtproofing, Insulation, New-build & retrofit, Renewable energy |
| | |
| --- | --- |
| Funders | Electricity North West |