Open home: Visit a new-build Passivhaus with solar electric heating - 3pm
Cumbria Action for Sustainability
Tour this ultra-low-energy home with clever technologies, with a Passivhaus consultant.
Ticket prices
Standard ticket
£ 5.00
Help another
£ 10.00
Genuinely can't afford it
£ 0.00
20190928T15:00
September 28th, 2019 3:00 PM to 4:00 PM
20190928T16:00
Put on calendar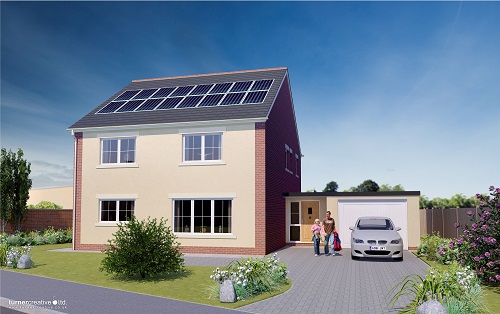 Passivhaus is a building standard for homes with very low energy use. Find out all about them at this visit to a newly built home near Gretna, built by Hadrian Homes.
Your visit will be led by a Passivhaus consultant, so you'll hear from an expert how these clever homes are built, and how they're different to standard homes.
As all new Hadrian Homes builds are also Zero Carbon, there will also be an opportunity to discuss this topical subject. An integral part of the Passivhaus design is the incorporatation an MVHR (Mechanical Ventilation & Heat Recovery) unit, plus of course very high levels of insulation.
The house features a roof-mounted solar PV array, and the electric underfloor heating and the boiling water tap are both partly powered by the solar panels (when the sun shines!).
The house also has a home battery storage system fitted, allowing capture of any surplus renewable energy generated.
While solar thermal and air-source heat pumps were both considered, they were deemed not necessary due to the already very low heating demand.
We're very grateful to Hadrian Homes for making this visit possible.
Things to know before you book
Accessibility: This 2-storey property is fully accessible to the ground floor.
There are three time options for this open home visit. This booking is for the 3pm slot.
Book for the 1pm slot instead
Book for the 2pm slot instead
This event is part of the Cumbria Green Build & Sustainable Living Festival 2019. Thank you to our headline sponsor:

Event information
| | |
| --- | --- |
| Category | Cumbria Green Build & Sustainable Living Festival |
| | |
| --- | --- |
| Topic | Building materials, Passivhaus, Renewable energy, Ventilation & airtightness |
| | |
| --- | --- |
| Funders | Electricity North West |