Power Up! Opportunities from renewable energy in a post-subsidy landscape
Cumbria Action for Sustainability
Learn about financial & technical changes in renewable energy, battery storage & electric vehicles.
20190918T14:00
September 18th, 2019 2:00 PM to 8:00 PM
20190918T20:00
Put on calendar
North Lakes Hotel and Spa




Nr Jct 40




Ullswater Rd




Penrith

,

CA11 8QT




United Kingdom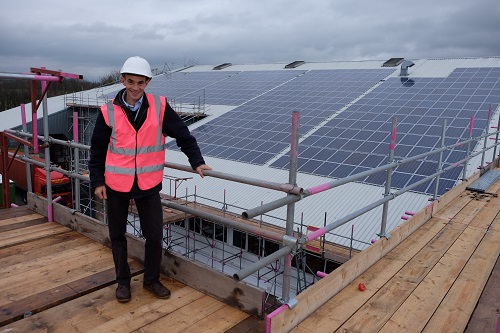 If you're considering investing in renewable energy and electric vehicles, this conference will help you make informed decisions.
You'll hear from a range of experts, who'll give you a clearer understanding of the financial and technological changes taking place in domestic and business scale renewable energy, battery storage and electric vehicles.
You'll come away with a good understanding about the current and future investment challenges and opportunities, including subsidies.
Renewable energy and electric vehicles are likely to be a key part of any organisation or community's drive to reduce carbon emissions, and the conference will put you in a better position to make decisions and take these forward. The conference also offers ample networking opportunities, which are included in the timings.
The conference is fully funded through the Eco-innovation Cumbria programme, led by the University of Cumbria. It will be led and facilitated by Phil Davies, Low Carbon Development Manager at Cumbria Action for Sustainability (CAfS) and Sally Shenton, Director at Generating Better.
How to book:
Places must be booked in advance via Eco-innovation Cumbria. Find out more.
Conference topics at a glance:
Overview of renewable energy, battery storage and electric vehicles technology.
What's changed in the last several years and what's on the horizon – policy, technology, innovation, subsidies and investment?
How to fund your project, including different investment models.
Challenging the future: finding win-wins for business, investment, community and the low-carbon sector.
Who will benefit from attending?
Small and medium sized businesses wishing to understand existing and new opportunities from renewable energy, energy storage and electric vehicles.
Individuals representing businesses or other organisations who have buildings or facilities that might benefit from renewable energy, energy storage and electric vehicles.
Renewable energy companies and community energy organisations wishing to network and discuss business and investment opportunities.
Policy makers in Cumbria and the North West with a low-carbon agenda.
Investors.
Speakers:
Sally Shenton: Director, Generating Better. Sally is one of the leading renewable energy experts in the North West of England and the UK, specialising in wind power but with enormous experience of the low-carbon sector.
Phil Davies: Low Carbon Development Manager, Cumbria Action for Sustainability (CAfS). As well as being the director of two renewable energy companies, Phil has been working with the renewable energy sector in Cumbria for 18 years. CAfS has previously run Eco-innovation Cumbria workshops on electric vehicles and heat recovery, plastics and sustainable events.
Gill Fenna: Director, Quantum Strategy and Technology and Project Manager for Ellergreen Ltd. Gill is a highly regarded consultant (and hands-on project manager), investigating and installing various renewable energy solutions across the North West of England as well as undertaking complex feasibility studies of micro grids and district heating schemes.
Steve Wrigley: Lancaster University. Steve works in the 'Energy Lancaster' team, collaborating with industry on several exciting low carbon energy projects. These include the 'Lancaster Hydrogen Hub', looking at how the Lancaster District and Cumbria regions can benefit from the exciting opportunities a low carbon hydrogen economy could bring and 'Faraday Challenge' projects looking at cutting edge Lithium Ion battery research.
Matthew Kiziuk: Marketing Manager, Renault UK. Matthew is the 'go-to' expert on electric vehicles, from technology and finance to range and the future of the sector.
Representatives from the renewable energy sector: A number of businesses from Cumbria and the North West will be on hand to answer your queries and discuss opportunities with you.
Policy makers: From the Local Enterprise Partnership to the regional Low Carbon Hub, there'll be representatives in the room to give you the latest information on policy and to discuss the future of renewable and low-carbon energy.
This event is part of the Cumbria Green Build & Sustainable Living Festival 2019. Thank you to our headline sponsor:

Event information
| | |
| --- | --- |
| Category | Cumbria Green Build & Sustainable Living Festival |
| | |
| --- | --- |
| Audience | For professionals |
| | |
| --- | --- |
| Topic | Community energy, Renewable energy |
| | |
| --- | --- |
| Funders | Electricity North West |
| | |
| --- | --- |
| Partners | University of Cumbria |