Open home: Sustainable smallholding renovation with renewables & food growing
Cumbria Action for Sustainability
Visit a renovated 16th century farmhouse with woodland, veg gardens & food landscaping, composting toilet, solar & wood heating.
Ticket prices
Standard ticket
£ 5.00
Help another
£ 10.00
Genuinely can't afford it
£ 0.00
20190922T10:00
September 22nd, 2019 10:00 AM to 12:00 PM
20190922T12:00
Put on calendar
Roadhead (Brampton, near Carlisle)

,


United Kingdom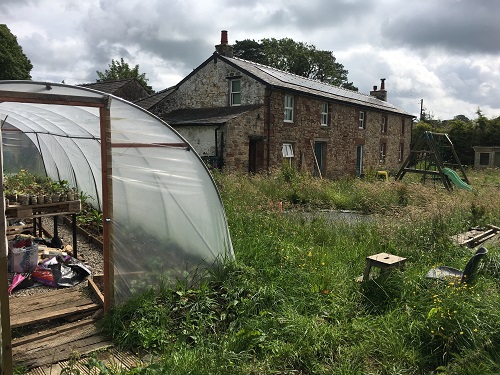 This 1500s farmhouse has been lovingly restored by the owners, with a great deal of sensitivity to the building and awareness of the environmental impacts of the building materials used.
Amy and Mike bought the property four years ago, consisting of the derelict 16th century farmhouse, outbuildings, and ten acres of young woodland.
Amy has done much of the building work herself, working with volunteers and specialists.
On this guided tour of the building and site, Amy will be able to explain the sustainable features of the property, including:
composting toilet
solar and wood heating system
insulating lime plaster
Geocell insulated floor
borate wood worm treatment
use of reclaimed materials
minimisation of construction waste
integration of habitats and food producing plants in the landscaping
After the tour, there'll be a facilitated discussion picking up on some aspects of the renovation project, including:
availability of information for self-builders and renovators
the process of decision-making, and
experiences of working with building control
This event will be of interest to the public and professionals alike.
Things to know before you book
Accessibility: This visit is to a property under renovation, and walking around the land around the property. If you have any mobility needs, please contact us before you book to discuss how we can make the visit accessible to you. Children are welcome, but please be aware that this is a construction project in progress and you will need make your own judgements to keep them safe.
Site conditions: Please note this is a construction project in progress. By booking for this event, you agree to comply with any safety instructions and requirements, including the need to wear any safety equipment you're provided with on the day.
What to wear: Please wear sturdy footwear (boots or wellies) and suitable weatherproof outdoor clothing for the conditions. The tour will be both indoors and outdoors, and will go ahead rain or shine!
This event is part of the Cumbria Green Build & Sustainable Living Festival 2019. Thank you to our headline sponsor:

Event information
| | |
| --- | --- |
| Category | Cumbria Green Build & Sustainable Living Festival |
| | |
| --- | --- |
| Funders | Electricity North West |