Grow your own food - training course (Vista Veg)
Cumbria Action for Sustainability
Get an introduction to the essentials of growing your own fruit and vegetables at this full-day course.
Ticket prices
Adult
£ 25.00
20190922T10:00
September 22nd, 2019 10:00 AM through 4:00 PM
20190922T16:00
Vista Veg




Bell Foot




Crosby Ravensworth

,

CA10 3JB




United Kingdom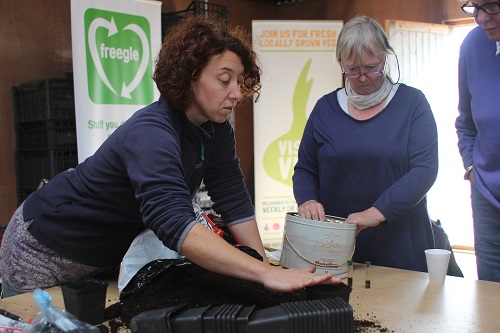 This one-day introductory course on growing your own food is great for novices and those with experience who'd like to dig a bit deeper.
You'll get a solid grounding in all the basics from expert growers Vista Veg, the growing cooperative that runs Eden's veg bag scheme. 
The course covers:
soil testing
clearing ground
crop rotation
seed propagation
taking cuttings and dividing plants
potting on and transplanting out
aftercare
harvesting
The course is partly indoors in the Vista Veg workshop, and partly in their polytunnels on the same site. 
By the end of the day, you should have the knowledge and confidence to start growing your own food or improve your yields.
Things to know before you book:
Accessibility: This is a working site and there is rough and uneven ground. Damp ground can be expected in polytunnel and garden areas. Please contact us before booking to discuss any accessibility requirements you may have: office@cafs.org.uk or 01768 210276.
You might also like...
* Learn about the 'no-dig' way of growing vegetables at a private veg garden, polytunnel & orchard. Find out more
 
This event is part of the Cumbria Green Build & Sustainable Living Festival 2019. Thank you to our headline sponsor:

Event information
| | |
| --- | --- |
| Category | Cumbria Green Build & Sustainable Living Festival |
| | |
| --- | --- |
| Topic | Food, Gardening & growing |
| | |
| --- | --- |
| Funders | Electricity North West |