Open home: Solar PV with battery system on a modern semi - 2pm
Cumbria Action for Sustainability
Find out how a solar PV and battery system can work well without a south-facing roof.
Ticket prices
Standard ticket
£ 5.00
Help another
£ 10.00
Genuinely can't afford it
£ 0.00
20190915T14:00
September 15th, 2019 2:00 PM through 3:00 PM
20190915T15:00
Put on calendar
Barrow-in-Furness

,


United Kingdom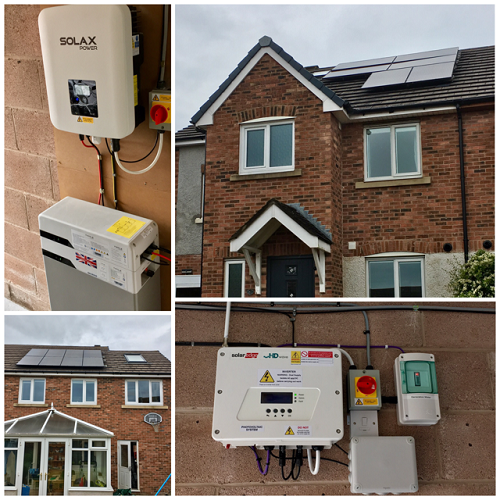 Visit a modern home in Barrow-in-Furness with a roof-mounted solar array and battery system that has substantially reduced external energy demand.
The homeowners have installed a 4.2kW (nominal) solar PV system, with Solar Edge optimiser/controller, modbus meter and SolarX battery system.
Roof-mounted solar panels are split between the front and rear of the property, facing ENE and WSW, showing that a solar roof array doesn't necessarily have to be south-facing to give good performance.
The power system is all installed in the garage, so is easily viewable. There will be an opportunity to see the system's live performance, and the owners will also share historical data recorded through the SolarEdge software.
The homeowners have also made other minor energy-saving improvements, including LED lighting, and using a low-power storage boiler instead of a kettle.
Things to know before you book
Accessibility: There is one step to the front door, to gain access to the house to see the consumer unit and to go through to see the solar PV panels on the rear roof. Other features can be accessed or viewed on the level, including: PV panels on the front roof, SolarEdge controller/inverter and battery storage. There is one parking space available on the drive if needed for accessibility.
Please note there are five timed tours available on the same day. This booking is for the 2pm tour. If you'd prefer to book for one of the other time slots, please choose below.
9am
10:15am
11:30am
3:15pm
You might also like....
* Open home visit - see how an ordinary '70s bungalow went from an E energy rating to an A+! Includes Tesla Powerwall, off-grid power system, solar & electric car. Find out more.
This event is part of the Cumbria Green Build & Sustainable Living Festival 2019. Thank you to our headline sponsor:

Event information
| | |
| --- | --- |
| Category | Cumbria Green Build & Sustainable Living Festival |
| | |
| --- | --- |
| Topic | Battery storage, Energy efficiency, Renewable energy |
| | |
| --- | --- |
| Funders | Electricity North West |