Last Thursday 23rd September, as part of the Great Big Green Week, we supported Ambleside Action for a Future to hold their Climate Action Day. This public event was to both support local businesses and residents to cut carbon and was packed with information, advice and projects to get involved with. Excitingly, the event was featured on ITV news which gave a great overview of what it was about.
Business support
Businesses were able to have face to face conversations with Sarah Smith, manager of the Low Carbon Lake District Grant scheme, who explained how to apply for the funding and helped many businesses along with their applications. They also met Mike Siddall from Eco I North West, who introduced them to the free research support available from the six north west universities for low carbon business innovation.
Many were keen to talk to Alasdair Muir from A Muir Surveying about commercial building energy audits, Tim Maiden from Green Small Business about the subsidised support for businesses in South Lakeland for environmental audits and certification, and Ady Powell from Charge My Street about their exciting new programme – Charge While You Sleep – aimed at installing electric vehicle charge points in hospitality businesses.
Molly Hogg from CAfS was demonstrating our carbon footprint calculator, which is free to any business or household in Cumbria and Lancashire, and was explaining the benefits of understanding where your emissions come from. Businesses also benefitted from the wisdom of Phil Davies from CAfS, John Barwise from QoL Environment Consultancy and Karen Bentley-Brown from Future Fixers, all of whom have years of experience supporting businesses to become more sustainable.
We look forward to working with these businesses over the coming months and will be continuing to offer business support into the future. If you are a business in need some environmental advice, please do get in touch via [email protected].
Community projects
The afternoon session with local residents was just as fruitful. We had great interest in our solar PV project to find a trusted installer to introduce to the community in Ambleside – thanks to Matt Fawcett from Carbon Coop for his help on this one. Our interactive solar PV map of Ambleside proved to be a great resource, allowing people to check out the potential of their own roof. Tina Holt from CAfS was also in demand, giving expert advice retrofitting homes for energy efficiency, and several people signed up for AAFAF's free home heat loss surveys which they'll be starting once the weather gets cold.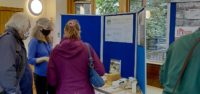 There was also keen interest in AAFAF's other projects, including their tree maintenance and habitat restoration projects and lobbying for sustainable transport.
Anyone local to Ambleside or within easy reach is welcome to join these projects, so please do get in touch either with CAfS ([email protected]) or AAFAF via their website or email [email protected].
Education
Also in attendance was Phil Furneaux who, with support from CAfS developed a module for his sustainable physics course with the Lancaster Physics Department. You can view slides from the course involving the CAfS team here.