A sunny Monday morning saw the latest electric vehicle (EV) chargepoint installation from Charge My Street resplendent in a delicately adorned red ribbon. This wasn't to last long though as the ribbon was promptly cut by staff from Kendal College to announce the chargepoints official opening for public use. On site were two Nissan Leafs and a Renault Zoe whose owners were eager to get in on the first kilowatts of juice from the sockets.
The two new chargepoints are located in the college's small car park off Vicarage Drive and represent the latest step forward in our partnership with Charge My Street to install 100 of them throughout Cumbria and Lancashire.
The installation enhances Kendal College's drive for sustainability, and the college is planning an extensive campaign to educate its staff and students, as well as the wider community about the new chargepoint stations to encourage more electric vehicle users.
As part of a £200,000 development of the college's automotive facilities, the college have also purchased two electric and hybrid cars and specialist equipment, to enable the college to train the next generation of automotive students and local employers in new hybrid and electrical transport technology. This new equipment will see hybrid and electric automotive courses start from September 2020.
Principal Kelvin Nash said "adding these charging stations, and investing in electric and hybrid specialist equipment for our automotive department, not only positions us as a leader in sustainability, but also ensures we are preparing our students for the future".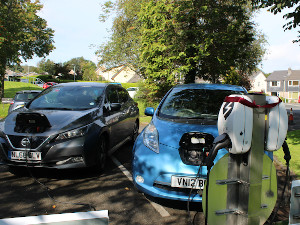 Daniel Heery, Charge my Street Director said "we are delighted to have collaborated with Kendal College to install our first community chargepoints in Kendal and its fantastic that community investment from local people has helped make this happen".
South Lakeland District Council became the first local authority in Cumbria to declare a climate emergency in February 2019, as part of its commitment to tackling climate change and its ambition is to be a 'Carbon-Neutral' Council by 2030 and support a district wide target by 2037.
Councillor Dyan Jones, SLDC's Portfolio Holder for Climate Emergency and Localism, said "At South Lakeland District, we are delighted to be one of the delivery partners on this exciting and forward-looking project. Everybody can make a difference, no matter how small, to reduce their carbon emissions and help address the impact of climate change. Increasing the number of chargepoints in the district is an important, key factor in making the use of electric vehicles more accessible."
"SLDC is making great strides with our Climate Action Plan, which places emphasis on working collaboratively with other authorities, partner agencies, businesses, charities, community group and residents. This project at Kendal College is a fantastic example of great partnership working, and is welcomed wholeheartedly."
Charge my Street would like to hear from community organisations across Cumbria, including parish councils, community/village halls and private businesses who may be interested in hosting an EV chargepoint, as well as local residents who would like to make the switch to an electric vehicle, but can't because they don't have off-street parking to be able to charge a vehicle. Anyone who would like to suggest a potential site can do this at https://chargemystreet.co.uk/cluster/cumbria or for more information email [email protected]