It was a meeting of old friends and new on Friday as CAfS' Cold to Cosy Homes officers teamed up with local MPs to spread the word to shoppers.
This was in aid of Big Energy Saving Week 2020, a national campaign to help people cut energy bills with the support they need. This was very fitting for Andrew and Tina who have celebrating energy saving week for a few months by this point.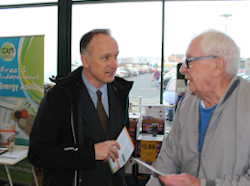 At Morrisons in Penrith, Neil Hudson, the new MP for Penrith and the Border, spent just under an hour with Tina and Gemma from C2C as well as our CEO Karen. They spoke with shoppers as they went about their day on how the scheme is reducing energy costs and wastage across Cumbria.
Neil said: "This is a fantastic project. I think it really helps people improve their homes, makes them more energy efficient and, very importantly for us, helps people support our environment and work toward a much more sustainable future for all. I'm really happy to lend my personal support to this great initiative.
I think we've got to encourage people to look after the environment and part of that is what people can do in their own homes to make us more energy efficient.
This initiative is great because it gives people the support if they're struggling to pay for it".
Cold to Cosy was very much an appropriate label as the CAfS team stood in the supermarket foyer in between gales of wind and the heated store entrance. This didn't put people off though and Penrith locals were more than happy to park their trolleys and have a natter about tariffs and radiator reflectors.
Not allowing our South Cumbrian friends to miss out, Andrew spent some time at Hallgarth Community Centre in Kendal before heading over to Booths supermarket to meet up with Tim Farron, MP for Westmorland and Lonsdale as well as South Lakes Housing.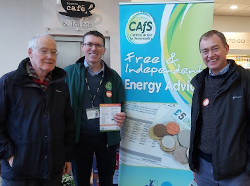 The team fielded scores of questions from curious residents, many of whom believed they couldn't qualify for the help because they lived in a rented home. In fact, renters can greatly benefit from the scheme as they are often eligible for draught proofing (with the owner's permission, of course).
Tim was an enthusiastic promoter of Cold to Cosy Homes and spoke of its benefits to many shoppers.
The Cold to Cosy Homes service has been running throughout the Winter period and there's still time to get involved and see if you could save on your energy usage. If you think you might know anyone who our team could help them don't hesitate to point them our way!
If you're feeling really helpful, why not book on to our last Cold to Cosy Homes Champions training day in Carlisle where you can learn the skills needed to refer those who need the support most. It's totally free, only takes a couple of hours and there may even be biscuits if you're lucky.